FAQ – All the questions you've always wanted to ask us, but perhaps never dared?
So, have you just signed your contract at Portes des Iris, or are you ready to do so? You made the right choice and now you have a thousand questions running through your head… Here is a small selection of the ones we answer most regularly:
PREPARATIONS
What makes the difference with some other event venues is our expertise and support, at all organizational stages of your reception.
You first discovered us on our social networks (Instagram, Facebook, Linkedin), then perhaps via a virtual tour of our spaces on our website or through Facetime in times of pandemic? But the impressions you had during your first visit to the domain will surely remain forever engraved in your memories.
It is important to us to be at your side from the very first questions you ask; we send you a provisional estimate, then a contract and finally, after the first preparation visit (to which you can of course invite your witnesses, your parents and perhaps already some of the service providers you wish to hire for the occasion), we draw up a location plan for the spaces you will be using.
The service providers you choose will also be welcomed and guided by us. We will make sure with them that all the details that we have decided together will be carried out during the preparation visits (either on site or by e-mail or videoconference). These will be summarized in a document accessible to all those who will be involved in your event (caterer, decorator, masters of ceremonies, wedding planner, etc…) and will serve as a guideline before, during and after your reception.
And that's when all the details will have to be worked out, including…
SCHEDULE
How late can we party at Portes des Iris?
We are one of the only event venues in the region where you can party until 4 o'clock in the morning. And no need to make any special requests, we have the permission of our municipality.
From our experience, this schedule will allow you to end your evening on a joyful note without making it too long.
Is it possible to already start the decoration of our event the day before?
If the room(s) are available, with great pleasure (during office hours). But as nowadays we often have last-minute requests, it is only about 2 weeks before your reception that we can confirm this possibility.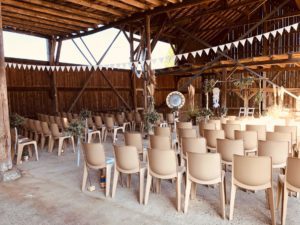 Pic by Marie Montibert
Can we deliver our wines the day before as well?
As for the previous question, yes, if the kitchens are available. Unfortunately, we do not have a cellar or storage place, especially in the middle of summer, it can be complicated.
It wouldn't be nice if a caterer got the wrong wines and used yours the day before, would it?
When can we get our stuff back?
That also depends on what happens after your event. If it's a Sunday, we all try to rest and we suggest that you come back on Monday morning to pick up your things (wine left overs, decorations, cots, etc…). Should we have an event afterwards, we always have small corners where we can store some things and you could come and get them later.
Some providers are also overloaded. Don't hesitate to ask us if they can also come back on Monday morning.
PARKINGS
Can we leave cars in your parking lot overnight?
Yes, of course. We will let you know what time it should be released if we have another event that requires the entire car park.
Do you have enough parking space?
We have 4 car parks at the estate. Two of them are a few metres from the entrance to Portes des Iris and can accommodate 100 (car park I) and 60 cars (car park II) respectively. Even if we have several receptions at the same time, we can accommodate all vehicles.
Two other car parks with more than 200 spaces are available for coaches or for larger events at the entrance of our Gardens. Only 200m from Portes des Iris.
Are your car parks guarded?
No, they are not. However, we do organise assistance for the arrival of your guests. Depending on the number of cars, buses or other means of transportation (possibility of arriving by helicopter, horse or motorbike), our staff will direct your guests to the corresponding car parks.
However, our car parks are not guarded, nor are they equipped with a video system.
CLOAKROOMS
Are your cloakrooms guarded?
As for the car park, we have dedicated and trusted staff on arrival of guests at the cloakroom and who also take care of the cleanliness of the toilets during the event. This staff is included in our rates, if the number of guests exceeds 100, but can also be arranged if you have fewer guests, at a lower cost.
If our cloakrooms are not guarded, it means that you are alone in the building, there is in principle no risk of theft.
CATERERS
Do you have exclusive caterers?
Yes, to date we have 8 and you will find them on our website under the Caterers tab.
We also have many articles on our blog that describe each of them and that will allow you to get to know them better.
Do we have to choose among your exclusive caterers?
On your big day, you want the best for your guests and you don't just cater for yourself! The house is big, the kitchens are professional kitchens and they require trained staff who know how to use them properly. It is important to us to have caterers who know our establishment, its rules, its procedures in case of fire, and above all who can close the building at the end of the reception. This is why we do not wish to make any exceptions and we would like you to choose from one of our 8 referenced caterers.
DECORATIONS
Who's in charge of installing our decorations?
As coordinators, we are at your disposal so that you can be all to your happiness, to your preparations, to your guests. If you have for us a list of things to place on tables / buffets / table plans, etc., we will gladly take care of it. For more information, read our blog article related to the preparations.
Do you have imposed service providers for decoration?
No, we do not. It is important to us that you are satisfied and it is our pleasure to regularly update the names of local florists with whom we are used to work, who are familiar with the estate and who can quickly send you an offer. Simply ask us for a list of our florists/decorators and we will send it to you free of charge.
Can we throw rose petals at the end of our ceremony?
Yes, if they are synthetic petals and only inside our ceremony rooms (Apollo or Athena). We have shared other ideas in our blog article on ceremonial outings.
We love candles, are they allowed?
We agree to have them on dining tables, high tables, inside the fireplace (on saucers) or in closed lanterns / candleholders.
Illuminations in places at risk, i.e. on stairs, window sills, around the fountain and where children may have access, are not allowed.
Today's led candles are also an alternative to real candles; the effects are almost as beautiful and the risks are much less!
HOTELS & TRANSPORTATION
Can we sleep on the estate?
We do not offer the possibility of accommodation on site. However, we have drawn up a list of nearby establishments with which we have negotiated rates for some of them. Don't hesitate to ask us!
Do you have contacts for transportation?
The village of Vullierens is served by public transportation. As for accommodation, we also have a list of possibilities in the surroundings. It is at your disposal if you need it…
ENTERTAINMENT
Do you have fixed music providers? Photographers? And for video?
No, but nothing better than to surround yourself with quality music providers and there we have gained some experience over the years. Whether you want a gospel band for your ceremony, a duo to liven up your cocktail reception or a dj accompanied by a live saxophonist for your evening, we have something to satisfy you. Our passion: to share with you the best contacts in the region or further. We will gladly put you in touch with our partners!
Are Thai lanterns allowed?
In agreement with the commune of Vullierens, these lanterns are not allowed, because they are very dangerous at the time of their lighting, they are not biodegradable either and harm the flora and fauna in the surroundings.
Is it possible to use bengal / glittering lights inside the building?
In order to avoid any risk of fire, glittering or bengal fires are not allowed in our reception rooms, but only on our Terraces or Courtyards. The same goes for all candles placed on our staircases or in risky places. Our coordinators will be happy to tell you where you can use them.
My cousin's a fireworks expert, is he allowed to set up our fireworks display?
The commune of Vullierens and the Canton of Vaud have been asking for a few years now for separate authorisations to fireworks. Only the official fireworksmen of Portes des Iris are authorized and the fireworks must be finished at the latest at 23h00.
CHILDREN
Do you provide babysitting services? Do you have ideas for children's entertainment?
Children are welcome and in order to make sure that everyone enjoys their evening, we offer either baby-sitters (CHF 20.-/hour, provide a meal and return by taxi) or a complete entertainment service. Do not hesitate to ask us for offers and plan your baby-sitters in time, especially if during exams or school holidays 😉
Can children walk freely in the gardens of the castle?
Yes, as long as the parents agree. We decline all responsibility. There are some beautiful walks in our gardens; why not offer the baby-sitters a little tour of the Lizard King's Kingdom with the children?
Is our dog accepted on the estate?
Our rental conditions do not allow pets inside the building. However, dogs are welcome outside if kept on leashes.
Can we arrive on horseback from the Gardens?
Yes, we have already experienced it several times. Horses can be sheltered under our barn before your guests, and you can arrive on our terraces from the bridle path. However, we ask you to respect the place and especially the possible visitors of our gardens during the opening periods.
Is it possible to organize entertainments with animals?
Of course it is! A circus evening without a snake dancer or bear trainer would not be a circus evening 😉
For a Swiss evening, Saint Bernard dogs are also welcome.
And let's not forget the youngest ones: for an event with children, we gladly organize pony rides, discovery workshops with rabbits and guinea pigs, etc…
Pic by Portes des Iris
This list of questions is of course not exhaustive and we are at your disposal if you have any other questions, and in order to complete ours afterwards as well 😉
Good preparation!
Corinne Salvisberg Perrone, April 2020