The success of an event often lies in the choice of the DJ!
But first, ask yourself what kind of reception you would like to organize? Because the key lies in the right choice of service provider according to your desires!
Would you like to bring an extra touch of live music to your event? A saxophonist, ideal for a garden party or for your wedding aperitif…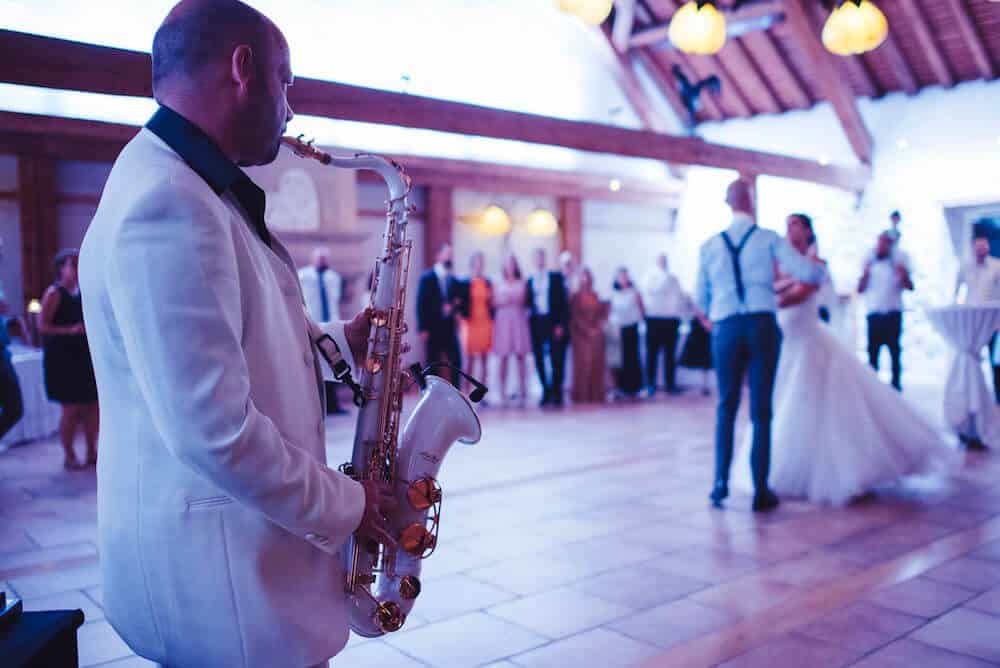 pic by Gerel photo
A wedding with a dj who's a master of ceremony? A trustworthy person who will be able to manage the animations, the speeches and the famous slideshow of the bride and groom 😉
An evening for your clients that requires a recognized artist who will ensure that you bring a maximum number of participants?
Or your company's Christmas party that you organize every year with the greatest hits from the latest years, that all your staff loves…whatever the generation.
Maybe with these few key words, you'll be able to make the right choice…
Anticipation
Remember to book your dj as soon as possible. As for the photographer and the videographer, they can't clone themselves and therefore accept only one booking per day. So if you already know a dj you want to hire, don't hesitate to ask for his availability, even if you have to book him temporarily even before you have the location confirmed.
Musical choices
If you start with an aperitif, a dj who can be accompanied by live musician(s) is an asset. He will be able to offer a range of very different styles for the evening and a jazzy or pop-acoustic aperitif will make all your guests in a good mood and ready to party until the end of the night!
The meal part can be accompanied or not by music. But if you do, make sure that the sound of the music is adapted to the volume of your guests' conversations. They feel like talking, so turn the volume down. If, on the other hand, the atmosphere is loosening up a bit, why not turn the volume up for a while?
Some djs work with their playlists, others listen to your desires, your styles and also take into account what you don't want to listen to. Don't hesitate to impose yourself, it's your evening, you have the right to like certain music and to play it. On the other hand, also think about the success of your choices… let yourself be guided by the dj's, while giving your favorite songs!
Another way of working of some providers is to let themselves be guided by the choices of the guests. To let them make their requests directly and thereby guide the evening. This requires a certain degree of tolerance; it's up to you to see if you trust your guests and if you would like a 'Danse des Canards' or a 'Lac du Connemara' on the dance floor…
The key 'musical' moments of a wedding – to be definitely planned in advance!

– The entry and exit of the bride and groom during the ceremony
– The entrance of the bride and groom in the dining room
– Cutting the cake
– The Opening of the Ball
And a few others:
– the surprise flashmob during the aperitif…
– the 15 minutes of dancing before the meal
– covers of songs by childhood friends
– the karaoke at 3:00 a.m.
– the famous slow motion series, like when we were teenagers…
For each of these moments, a title, a style or a memory, will surely help your dj to prepare his playlists. These are important reflections, which require a little time to mature. We can never repeat it enough, a maximum of planning avoids last minute stress! The night before also has its advantages sometimes 🙂
Type of entertainment during a wedding

Our djs will be partners throughout your reception. They will be able to already amplify the ceremony part (on one of our 2 terraces, since our Apollo and Athena rooms are already equipped with sound systems), then the aperitif area (inside and/or outside); they will manage the microphones for the speeches throughout the evening, but also the projections and other activities planned by your guests. Some of them will also be asked to add a sound system outside if an evening dessert or fireworks are planned. Don't forget to inform them of the interventions so that they can come with the right equipment!
It is of course at the end of the evening that their role is the most important and that you must be sure of your choices. A good dj manages to get everyone dancing. His music will have to be of your taste, but also of those of your guests. Remember to please all generations at the beginning of the dance part… older people don't always stay until the end of the night 😉
Budget
A dj can come alone or accompanied by live musicians and a singer, but above all it is necessary to make sure that his technical equipment is brought by him. Some international dj's come with no equipment at all, so you have to make sure you have all the technical equipment you need.
At Portes des Iris, we already have a led system in the Dorianna room for all the coloring of the room. But a good light show will also make the difference and we are used to work with Audiolight in Colombier, a reliable and close partner. Their team knows the place perfectly and will be able to provide you with quality equipment, according to the needs of the artists.
To sound system in the Dorianna room
To sound system in the Iris Room and its Bar
To sound system the Building and its 2 terraces
When choosing a dj, remember that quality always comes with a price! Compare what is included in each performance: technical equipment (number of speakers, type of mixing table, lighting effects, facet balls, laser,…), transport included, set-up, start and end times, meals and drinks, accommodation, etc…).
The djs' rates are very much different. Plan a budget from CHF 1000 for some, CHF 1500 to CHF 2'000 for the others. Every year, we update a list of djs for our clients; do not hesitate to ask for it!
You all want to hear the day after your event: "The evening was great, we had a great time and it's thanks to the dj's musical choices, he was just great! »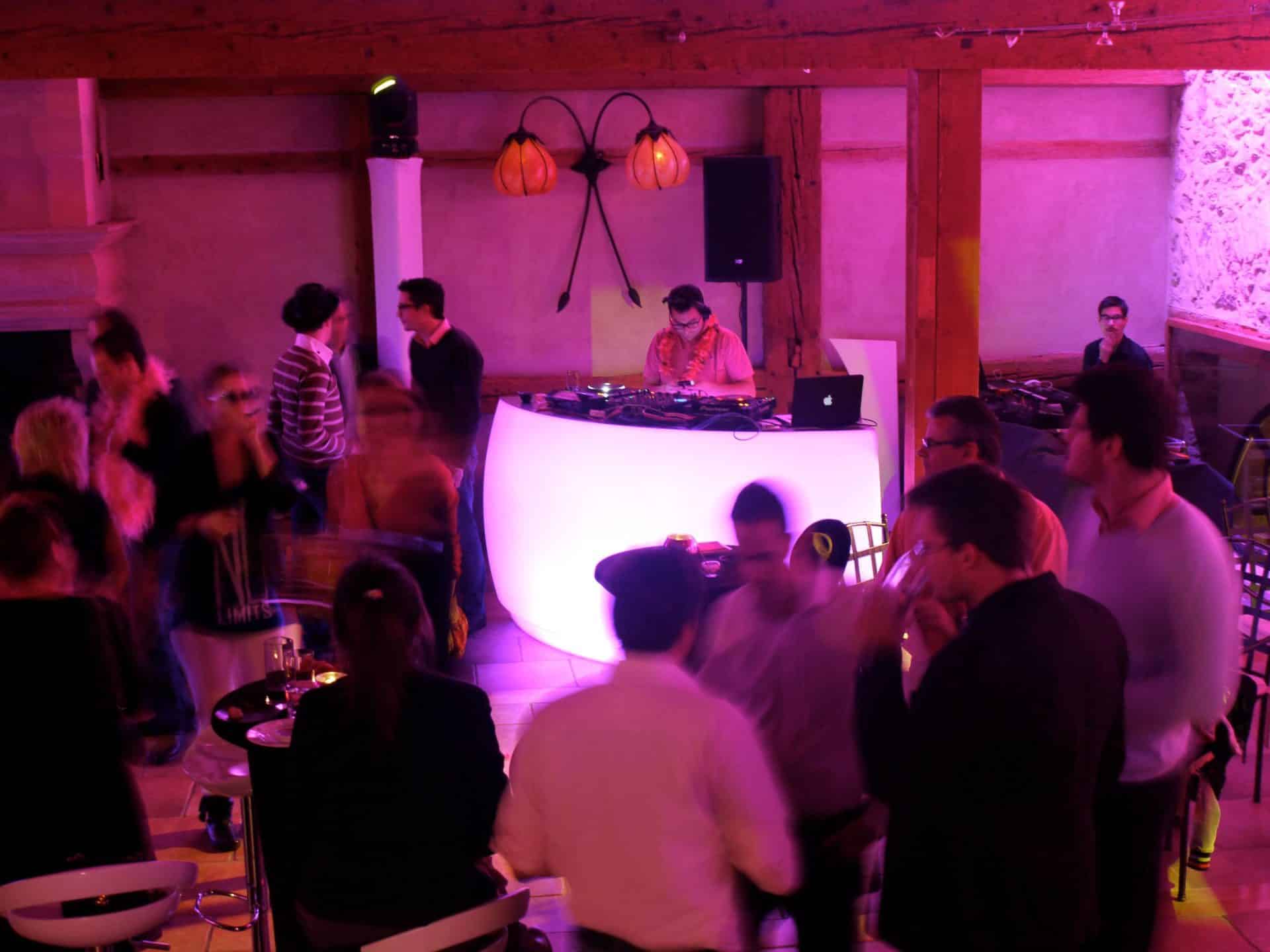 Neighbourhood and volume

In Switzerland, all event venues are subject to authorization. At Portes des Iris, we have the approval of the commune to guarantee audio performances on our terraces until 10 pm (except for fireworks which can be shot by approved pyrotechnicians until 11 pm), and inside the building until 4 am.
Our neighbours are very conciliatory), but they also appreciate when the party is over, that the guests leave quickly and if possible quietly … Thank you for considering the next events 😉
We are limited by law not to exceed 93DB at all times. A sonometer is available at the domain if necessary. If you are anticipating significant peaks in noise levels, we can indicate with pleasure where you can get hearing protection.
Smoke bombs
They are allowed, but beware, they are sometimes persistent and have difficulty to leave the rooms. What could be more annoying than having to dance in a 'smoky' atmosphere and not see your dance partner at all???? For some laser effects, they are quite indicated, but beware, some djs sometimes abuse them…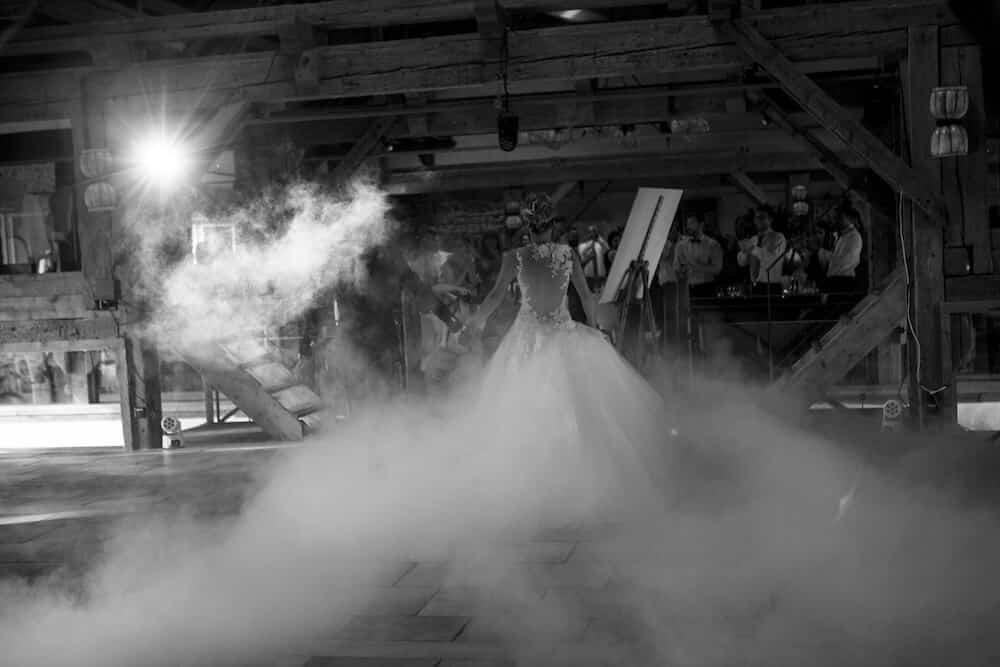 It's all about timing

The perennial question of all our brides and grooms… is what time do we start the dance!
There's no ready-made answer, but it's true that starting the dance at 1:00 a.m. is late and already a good part of the wedding party might want to go home.
We always try to convince our bride and groom not to dine too late (not like at the hospital either…), so that they can dance around 11:00 pm, which is the ideal time when the guests are still in good shape (unless the aperitif lasts more than 2 hours or the dinner is too long). If you are worried that the guests will get bored with 5 hours of dancing (yes, remember that you can party until 4 o'clock in the morning at the Portes des Iris), remember to serve them a small snack on the stroke of 2 o'clock in the morning.
The length of the meal will of course also depend on the number of interventions during the evening and their duration. Try to favour short speeches and videos of a few minutes. If you like games, alternate them with speeches and preferably organise them at the end of the meal, so as not to disturb the service too much.
A table major (or master of ceremonies) will be of great use for you! It is he (or she, or even they, if you assign the task to several of your relatives) who will be responsible for 'managing' the evening's entertainment and who will also be your contact with the caterer and other service providers. It is important that a main thread of the evening is set up, in order to coordinate efficiently the planned interventions and perhaps have room for one or two last-minute surprises…?!
We are happy to meet with your master of ceremonies before your big day. Don't hesitate to suggest them to come to the domain during one of the coordination meetings we will have together. It is good to get to know each other in advance and to see a few weeks before the planned schedule of the evening together. We will then gladly forward the final timing to the caterer and other service providers who would like to know it.
In short, the choice of the dj is yours, but it is important that you meet him beforehand and that you are sure of your decision. Sometimes it can be useful to meet several of them…
We are happy to provide you with a regularly updated list of some of the good djs in the area, that we have seen in action and that we no longer hesitate to recommend!
Corinne Salvisberg Perrone, April 2020