Which ceremony to choose for your wedding?
He did it!! Your beloved has made her/his demand…. both of you are on a little cloud of love and now you spend most of your time talking, thinking and dreaming about this beautiful project, your wedding!
The more you will progress in your preparations, the more questions will be asked about the organization, the decoration, the dress (see our article on this subject here), the music, the venue, the caterer, in short, it is the whole concept that you will scrutinize so that this wedding is unique and that it resembles only the two of you in every detail!
If the choice of the ceremony is obvious for some people, others need more reflection. So don't hesitate, discuss it together, just the two of you, because this is your choice, the first step of a long life journey that has to be lived in your own way.
Indeed, there are many ways to say I DO, and actually, they are all possible at Portes des Iris 🙂 In a small committee, gathering a large audience, in a traditional, more formal way, in the heart of nature or entirely personalized… the ideal ceremony is yours!
The civil ceremony: Wedding of exception
You would like to celebrate your union in front of all your loved ones, during an official ceremony, while having the possibility to personalize it, to add your own touch, to include speeches and exchange of wishes, to decorate your central aisle with care, and to flower the room dedicated to you? The wedding of exception is for you 🙂
Indeed, it is also possible to have a civil wedding in an idyllic setting, bringing together family, witnesses and friends in one place! From the preparation of the bride and groom to the meal, including the official part of the wedding, enjoy the comfort of living this memorable day, without having to rush all day long.
A unique civil ceremony, prepared with the registrar and with your personal touch… All your guests by your side, up to 270 people… Prepare on site before saying I DO… it's no exception at the Portes des Iris!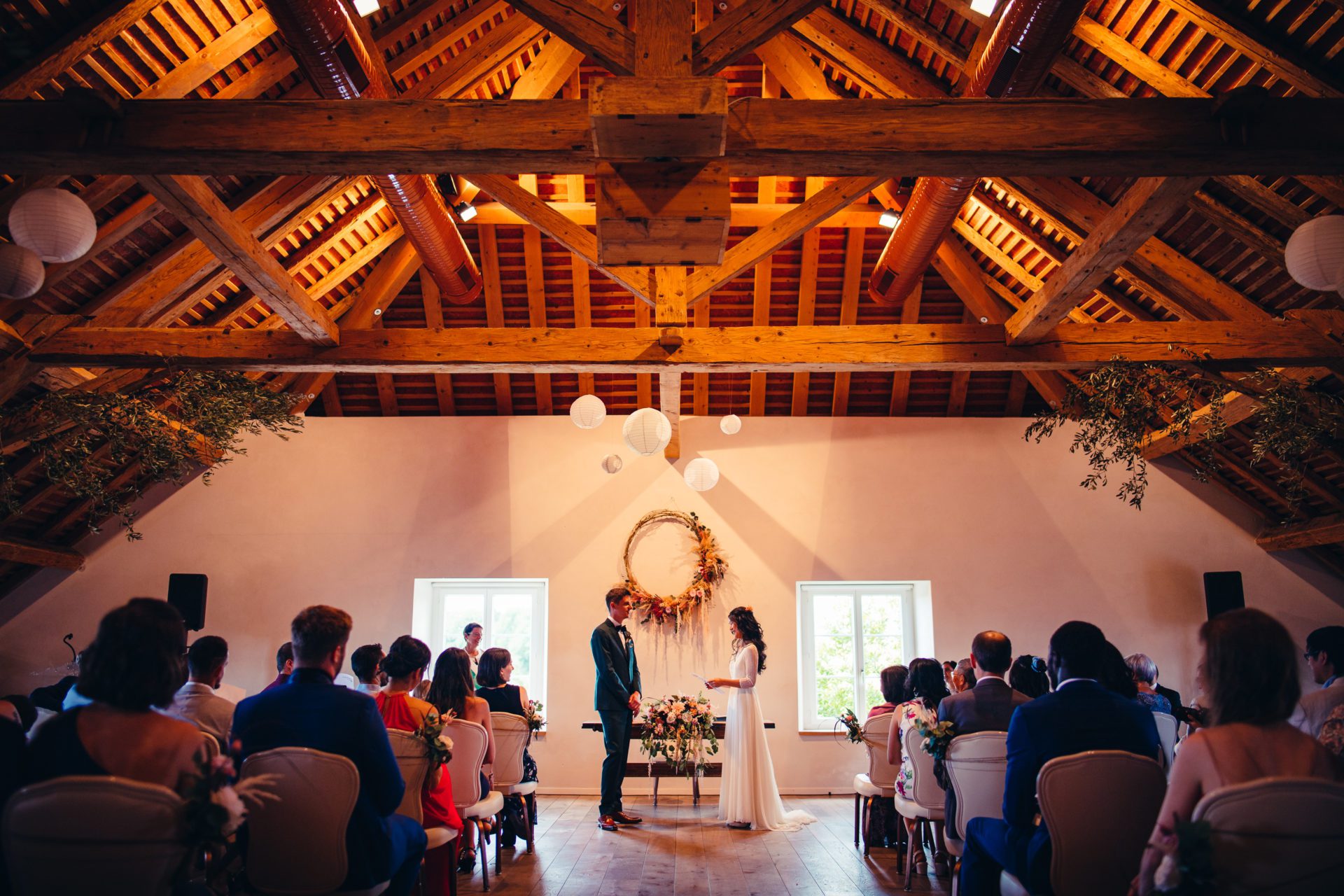 Pic by Felix 13
Did you know?
Portes des Iris is recognized by the Canton de Vaud as a place to celebrate civil unions every 2nd, 3rd and 4th Saturday of the month. Discover our complete article on this subject here
The religious ceremony: Wedding of tradition
Whatever the religion, the sacred union confers to the wedding a divine dimension that can also be experienced surrounded by a luxuriant nature on our terraces, with your religious officiant. An open air ceremony (or in one of our two rooms depending on the weather conditions), at your image and entirely personalized, decorated by you and according to your tastes, punctuated by musical interludes that you will have chosen, as well as by the various speeches that your loved ones will have concocted for you. When the tradition starts moving, the religious ceremony will take place under the sun!
Because the place must be divine to you, but you want to prepare yourself on the spot and not to move your guests, the charming little church of Vullierens is the ideal place for you! Only a few minutes walk from Portes des Iris, passing by the spectacular gardens of the Château de Vullierens, your procession is assured to be a success… on foot, originality is a must!
The secular ceremony: Carte blanche to both of you
You both come from different religions, you are non-believers, the civil ceremony is to your opinion too short and too formal for D-Day, or maybe you want to handle yourself every detail of your union? Because you want to dissociate the spiritual commitment from your rights and duties towards each other? The secular ceremony can be your ideal compromise! Flexible, customizable without any limits and in the smallest details, it is the most open way to get married!
Nothing will be imposed to you, so you will be able to plan every minute! Speeches, speakers, music, entrances, celebrant(s), exchanges of wishes, rituals and interludes.
But no worries, we care about guiding you and we can also refer you to the choice of your celebrant(s) here.
The secular ceremony can of course take place on our Terrace of Iris or our Terrace of Collonges.
In our dedicated rooms, either the beautiful and spacious Athena room (below) or the small Apollo room, with a kind of Chapel spirit.
But also at the foot of our century-old trees, in the heart of the Gardens! More information about this possibility here.
Or even in our Barn! Well, as you can see almost everything is possible 🙂
.
November 2020, Aurore de Comarmond